The Abdomenizer. Tae Bo. Bow-Flex. With every year that comes and goes so do a slew of fitness fads — so what's hot right now? I looked to Amazon to find the most popular fitness products of the past year, and what I found was surprising.
Instead of the usual clunky machines and gimmicky gadgets promising to "whittle away your waist," "obliterate your abs," this year's popular products aim to help you reach your fitness goals (whatever they may be) with convenient, portable, and high tech gear that makes your workouts easier and more effective. These products are for people who want to set and achieve goals tailored to their lifestyle and schedule.
Usually when it comes to fitness, people sign up for the gym in January with well-meaning resolutions, but by June, most of us (myself included) have fallen off the workout bandwagon. The familiar cycle has given way to products that are easier to fit into a busy schedule, like light-weight, portable gear you can carry in your purse, wearable tech that tracks your progress, and items that help motivate you to get moving.
No matter what type of exercise you prefer, there is something for you among the most popular fitness products on Amazon over the last year that will get you pumped up and ready to work out.
1

A Tangle-Free Jump Rope For Cardio On The Go

Jump Rope, $10, Amazon

Cardio doesn't have to mean going for a run or hitting the elliptical. Mix it up with ajump rope. This tangle free, easily adjustable jumping rope is super lightweight and great or a warm-up, quick cardio session, or part of a high-intensity interval training workout. Plus it's easy to store, making it a great piece of equipment for travel.
2

A Fitness Tracker That's Packed With Features

Fitbit One Wireless Activity Plus Sleep Tracker, Black, $99, Amazon

Fitbits are no fad — they've been around for a few years now with no sign of going anywhere. By far the most popular model of Fitbit (and activity tracker in general) is the One Wireless Activity Tracker with over 10,000 positive reviews on Amazon. And it's no wonder — this model is packed with features yet costs a fraction of the price of its competitors. Not only does it it track steps, distance, calories burned, and stairs climbed, it also monitors how long and well you sleep and wakes you (and not your partner) with a silent alarm. Plus, all the data is wirelessly synced to your computer so you can track your fitness goals easily.

3A Sweat-Wicking Waistband That's More Convenient (And More Comfortable) Than A Fanny Pack

Sport2People Running Pouch Belt, $15, Amazon

Keep your phone in one pocket of this highly reviewed running belt and your keys in the other. The separate pockets keep your phone from getting scratched and allows you to go for a jog without having to hold it in your hand. The soft belt is made with moisture wicking fabric to keep all your belongings safe and out of your way.

4

Resistance Bands For A Full Body Work Out You Can Take Anywhere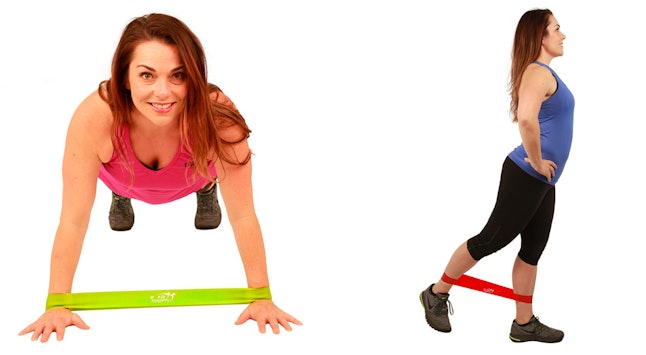 Fit Simplify Resistance Loop Exercise Five Bands, $12, Amazon
Resistance bands are extremely portable, making them the perfect option for a workout on the go. This set comes with five bands at different resistances, a carry bag, eBook, online videos, and instructional booklet. They're great for stretching, strength training, and can be integrated into several workouts.
5

An Exercise Ball To Amp Up Your Workouts At Home (Or In The Office)

Live Infinitely Exercise Ball, $14-$25, Amazon

Work your core and improve balance with an exercise ball. This one comes in various sizes and can be used for yoga, pilates, strength training, and even as a desk chair (yes, you read that right — it's a great ergonomic chair option for your office, plus you can work your core at work). The ball is leak proof and won't burst, even under a pressure-filled workout. Plus it comes with a free online workout guide so you can get the most out of your new tool.